Overlay has been updated to version 672
As requested by our community; the ability to choose your Driver Name format has been added to Battle component.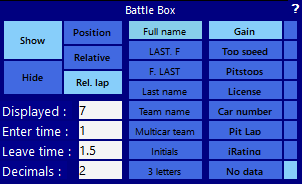 Download this latest version of the Battle Box from here: https://www.sdk-gaming.co.uk/battle-box-component/
If the name formatting doesn't appear on your Overlay then:
If displaying within OBS then select the Refresh Cache of Current Page option within your Browser Source Properties.
If displaying with iRacing Live HUD then right click on the program in your System Tray and select Reload Overlay.