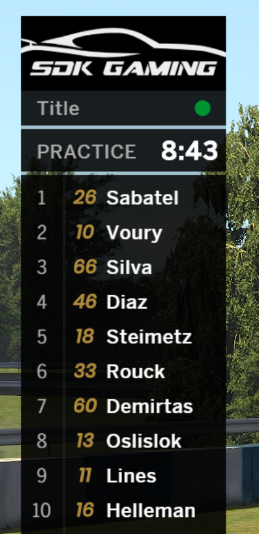 Our new NASCAR Tower 2020 and NASCAR Driver Details 2020 Components have finally been released!!
To complement our existing NASCAR Ticker 2020, now available for download are the NASCAR Tower 2020 and NASCAR Driver Details 2020.
The NASCAR Tower provides 4 options for data display as well as a customisable logo, title and split display option.
The NASCAR Driver Details, provides a customisable header and footer, age and hometown display as well as integration with driver photo. All configured either from the Driver Information App or from Driver Overrides within iRacing Live Timing.
You can either use the above links to add to your existing project file by following these steps:
Download the component.
Press F4 in iRacing Live Timing to open the Remote Control Tab.
Press F2 to open the edit panel (it may be hiding behind your F3 settings if this is open) and select Import.
Navigate to your downloaded component.
Click OK and your new component will be imported into the Remote Control Tab.
Reposition to where you want and then press F2 again to exit edit mode.
Alternatively load this project file to have all 3 NASCAR components preloaded and configured for use driving or streaming: https://www.sdk-gaming.co.uk/wp-content/uploads/NASCAR.zip