New Margin setting has been added to Remote Control elements to ease building more compact and styled layouts. You can find the new property in the F2 edit panel for each component.
iRacing Live Timing is now listening to event messages sent by the Events web app to allow remote controlled race reviews.
Lap number bug in event grid has been corrected.
Layout without using Margin settings: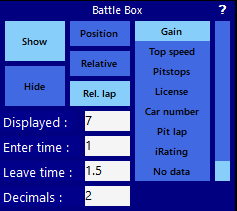 More compact and clear layout using Margin settings 1,1,1,1: