IF UPDATING FROM BEFORE VERSION 10.3.2.4 ANY EXISTING SHORTCUTS YOU HAVE ON YOUR PC WILL NO LONGER RUN THIS LATEST VERSION. FIND IRACING LIVE TIMING IN YOUR START MENU AND CREATE ANY SHORTCUTS YOU WANT FROM THERE (AND THEN DELETE THE OLD ONES)
iRacing Live Timing has been updated to 10.8.2.4
The 3 new cars released by iRacing for Season 1 2022 have now been added to iRacing Live Timing:

Honda Civic Type R
Hyundai Elantra N TC
Mercedes-AMG W12 E Performance

Tyre compounds for the Mercedes-AMG W12 E Performance have been added.
Official series and their classes have been updated to reflect the new season.
Improvements have been made to commentator mode when connected to the broadcaster including flickering on car/camera switch
A new hotkey manager has been added.
Hotkey Manager
A new Hotkeys Manager has been added to the Remote Control section of the F3 Settings Panel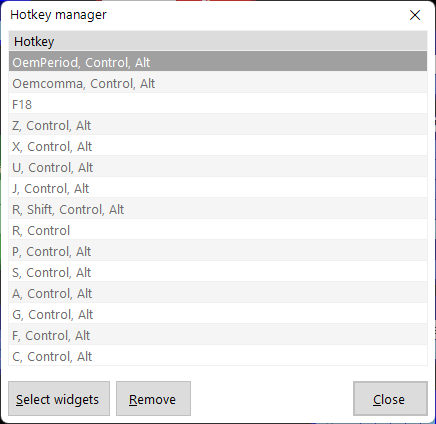 Using the Select Widgets button switches the Remote Control Panel to edit mode and selects all widgets (buttons) in the Remote Control Panel with that selected hotkey assigned to it within the selected Tab.
The Remove button unassigns the selected hotkey from all widgets (buttons) in all Tabs.